Health and Benefit Accounts
Our solution will maximize your healthcare purchasing power and savings potential
Your HSA just got even better
First American Bank is pleased to announce our new Health Account Services Group to better manage your Health Savings Account (HSA). This allows us to expand our services to include a new suite of Consumer Directed Health (CDH) benefit accounts. With the introduction of our new suite of products, we have updated our technology to provide you with an even better consumer experience, including a new online Health Account Services Consumer Portal, Mobile App and Debit Card.

New Online Consumer Experience
Beginning at Noon on September 23, you may set up online access to the Consumer Portal. Click 'Login' from our homepage and select 'Health Account Services: Consumer Portal' from the drop-down. For your first-time login, click the 'Create your new username and password' link and follow the onscreen instructions.

With our new Health Account Services Consumer Portal, you have access 24/7 to your account information and many self-service capabilities, including the ability to: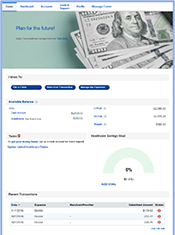 Paperless administration, including online account summary reports and tax documents.
Consolidate all out-of-pocket expenses that are available via online or mobile expense/receipt "virtual shoebox" entries, claims that have been filed, debit card transactions, and distributions attributable to qualified health expenses.
Conveniently access investments and investment guidance.
Complete online transactions such as claim reimbursements, online bill pay, distributions to your bank accounts and contributions to an HSA plan.
View/update personal data, sign up for and manage direct deposit and your debit card status, sign up for text and email communications.
View the balance, historical and pending activity, including debit card transactions.
New Mobile App
After you have set up access to the Consumer Portal, download the FAB Health mobile app. Our new mobile app makes it easy for you to manage your benefit plans on your iOS (iPhone, iPod Touch, iPad), or Android-powered devices. You can: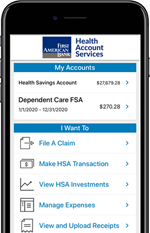 Scan a product bar code to help determine eligibility as a qualified medical expense
Check claims requiring receipts
Snap a photo of a receipt and submit with a new or existing claim, or store in the device's camera roll for later use in claim filing
View HSA investment details
Initiate an HSA distribution or contribution
Check balances and account details
View summary to obtain key account info
Access account funds to pay yourself or someone else, such as a doctor
Report a debit card as lost or stolen via the consumer portal and mobile app
View important messages about your account(s) and get notifications via text alerts
Retrieve forgot username/password
New Debit Card
As part of our new First American Bank Health Account Services solution, you should have already received a new Mastercard® debit card, which will allow you to easily pay for qualified healthcare expenses, instead of paying cash. The debit card is equipped with new security features to ensure purchases are limited to qualified healthcare expenses. Non-qualifying transactions, including ATM access, will be declined. If you haven't already, activate your new Health Account Services debit card today!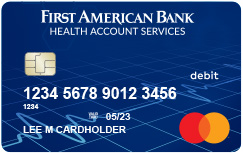 To assure compliance with IRS regulations, our First American Bank Health Account Services debit card offers maximum electronic capabilities to reduce the amount of paper used. The result: up to 95% of all transactions don't need receipt follow-up. Simply swipe the card and the funds are automatically deducted from the applicable benefit account for payment.
Customer Support
Our Health Account Services team is ready to assist you with any questions you may have. Please contact them at
(866) 449-1150
Monday-Friday, 7:00 a.m. – 7:00 p.m. CT, excluding holidays.