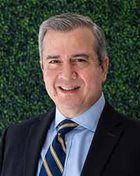 MIAMI - February 2023 - First American Bank, a privately held, full-service bank with over $6 billion in assets serving the Chicago, Milwaukee, Miami, and Tampa markets, announced the arrival of Hector Peña as Senior Vice President Commercial Loan Relationship Manager.

As a growing part of First American Bank's services in Florida, Mr. Peña's hire stands at the forefront of its efforts to further extend commercial and industrial lending capabilities in South Florida. Miami's diverse culture and powerful economy offer great potential for development. First American Bank seeks to foster this development across communities in Miami and throughout Florida.

"I'm thrilled to be starting this new chapter at First American Bank," Mr. Peña said. "I admire their combination of big-bank services with the personal attention only a local community bank can provide. As a Miami resident myself, I want my community to have a bank with these capabilities and characteristics that cater to the needs of our local businesses."

During his 30-year career, Mr. Peña has served as an AVP Commercial Lender and Portfolio Manager at Bank Leumi USA, a Small Business Relationship Manager at HSBC, a VP Commercial Lending Officer at Banesco USA, FVP Head of Commercial Real Estate at International Finance Bank, and most recently as a FVP Commercial Loan Officer at Valley Bank. "As buyouts and turnover continue to affect other banks in Miami, our portfolio of privately-held businesses has grown significantly," said Brian Hagan, Florida Market President of First American Bank. "We are excited to add Hector as another resource to help us better serve local business owners and assist them in meeting their goals."

Mr. Peña holds a Bachelor's in Finance and an MBA from Florida International University's College of Business. Based in Miami during his entire career, he has strong ties to the community. His understanding of the unique situations facing businesses in Florida will be an asset to his work and provide added depth to the suite of services the commercial lending team offers First American Bank's customers.

First American Bank's commercial lending team helps customers find business funding options ranging from equipment purchases to leveraged buyouts. Offerings include working capital loans, asset-based lending, owner-occupied real estate financing, direct purchase bonds, and more. These solutions provide small-to-medium-sized businesses with the financing they need to grow.

About First American Bank

First American Bank is a privately held multi-state full-service community bank. We started over 50 years ago as a combination of community banks serving the Chicago metropolitan area. Since then, we've grown to become the largest privately held bank in Illinois with 61 locations across Florida, Illinois, and Wisconsin and over $6 billion in assets. Our focus has consistently revolved around three core values: creating solutions, exceptional customer service, and unmatched expertise in commercial banking, wealth advisory, and personal finance solutions.

For some, banking is a transaction. For us, it is a continuous financial partnership. Our services span from a robust network of personal and online banking to working capital solutions, business loans, and trade advisory for business owners and manufacturers -- all strengthened by private banking offerings giving our clients a full suite of financial planning and wealth management solutions. Our clients are individuals, private business owners, entrepreneurs, and fast-growing companies seeking to create and preserve their wealth through personalized attention and tailored financial solutions.

Connect with First American Bank via Facebook, Twitter, LinkedIn and Instagram.